About Stepping Into More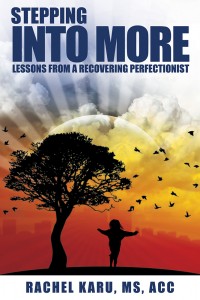 Stepping Into More – Lessons from a Recovering Perfectionist, is Rachel's personal journey from fearful perfectionist to confident performer. Despite her personal and professional successes, her continuous quest to be everything to everyone – kept some of her deepest loves and passions hidden for more than 20 years. The story is about coming full circle and embracing her life-long passions and going for it.
Intended as a tool, this guide offers support as you grapple with your own Gremlins and higher self, so that you learn how to make clear, conscious choices that lead to a wonderful, expansive life. Rachel's story and the reflective questions at the end of each chapter are designed to serve as a stepping stone for you to reconnect to and honor your passions, values, and dreams.
Stepping Into More – CD Available Now!
Join Rachel on her musical journey. Rachel has produced an album of songs based on her book "Stepping into More." Many of the songs are mentioned as songs that hold great meaning for her in the book. She also has added some fun, new songs. These cover songs include a variety of genres including musical theater, pop, and standards.
Purchase the CD today!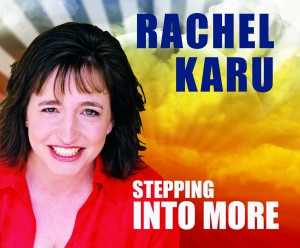 Purchase Stepping Into More today at Amazon in ebook or paperback!